Liberal Wrestling Club Competes in Hugoton
Brock Kappelmann - February 28, 2023 6:00 am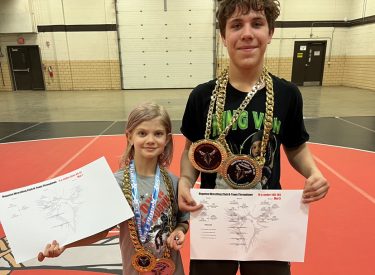 Heronemus and Holcomb Named Most Outstanding Wrestlers
On Saturday, February 25, the Liberal Wrestling Club attended the H-Town Throwdown in
Hugoton, KS.
Most Outstanding Wrestler was given to 10 of the wrestlers at the tournament. For the 14U boys
division, Jayden Heronemus received this award. For the 6U girls division, Alyvia Holcomb
received the award.
"We are very proud of these two and the accomplishments they have both achieved as second
year wrestler," coach Krista Holcomb stated.
Wrestlers who medaled at 4th place and greater are:
Jacob Baeza, 4th
Isaac Armendariz, 1st
Anakin Lamberson, 3rd
Ethan Macias, 4th
Uriah Andrade, 2nd
Ian Holcomb, 3rd
Kevin Nieblas, 3rd
Jaziel Contreras, 2nd
Joel Baeza, 4th
Juan Mata, 1st
Elias Holcomb, 1st (10U)
Julian Gonzalez, 3rd
Colby Mitchell, 1st
Eli Garibay, 1st
Lill Osborn, 2nd
Elias Holcomb, 1st (12U)
Erick Ortiz, 2nd
Diego Olivas, 4th
Jesus Baeza, 2nd
Jayden Heronemus, 1st
Alyvia Holcomb, 1st
Sofia Torres, 2nd
Liberal Wrestling Club also took 6 wrestlers to Derby on Sunday, February 26 for the Novice
Championships.
Results are as follows for those that received top 6 medals:
Layla Robertson, 5th
Joshua Robertson, 4th
Landon Castilleja, 2nd
Jonathan Barragan, 4th
The season will be coming to an end very soon as we head into District and State in the weeks
ahead. Overall, Liberal Wrestling Club has had a very successful season with a lot of progress
from each wrestler.