Liberal Wrestling Club Competes in Canyon TX
Joe Denoyer - January 16, 2023 11:07 am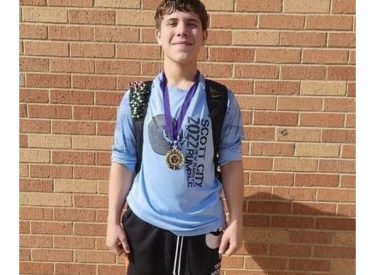 On Saturday, January 14, 2023, Liberal Wrestling Club took 8 wrestlers to Canyon, TX for the Eagle Takedown Tournament.
Jayden Heronemus came home with a first place medal that was well deserved. He went up against an opponent who had an undefeated record for the year and was 27.2 pounds heavier than him. There were obvious concerns going into this first match. The two wrestlers went all three rounds and Heronemus won by decision 8-5. Heronemus then pinned his next two opponents.
"Being Jayden's second year, he has accomplished some great things. He got invited to the National Freestyle tournament last year. He had a 24-3 record for his middle school season and this weekend he took on the giant and won in Texas," Coach Bill Holcomb stated.
Other results are as follows:
Matheo Ortiz (D1 55) 4th place
Alyvia Holcomb (D2 49) 3rd place
Anakin Lamberson (D2 49) 2nd place
Ian Holcomb (D2 83) 6th place
Camilla Tarango (D2 100) 3rd place
Erick Ortiz (D3 80) 5th place
Elias Holcomb (D3 85) 4th place
Elias Holcomb (D4 80) 2nd place