Liberal Wrestling Club Competes at Pratt
Brock Kappelmann - December 15, 2022 7:11 am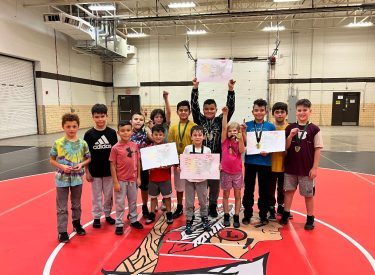 Krista Holcomb
Liberal Wrestling Club traveled to Pratt
with 14 wrestlers for the Pratt Ground & Pound Tournament.
Erick Ortiz and Joshua Robertson both wrestled in the 12U open bracket as
first year wrestlers. They both represented the club very well but came up
short of placing.
Isaac Armendariz placed first in the 6U 55 pound weight division winning by
decision in his matches.
Alyvia Holcomb wrestled 6U girls 52 pound and placed 2nd. She started off
strong with the only tech fall for Liberal Wrestling Club for the day and
pinned another opponent.
In the 8U Novice 49 pound division, Anakin Lamberson placed first – pinning
two of his opponents and winning by major decision in final round.
Matheo Ortiz placed fourth in his division, 8U Novice 55 pound.
Jeremiah Robertson wrestled 8U Novice 61 pound and placed 3rd. He pinned
his final opponent in 20 seconds.
8U Novice 88 pound was Ian Holcomb. He placed 2nd, pinning two of his
opponents.
Juan Mata wrestled in the 8U novice 140 pound and pinned his opponent in
both rounds, putting him in first place.
Elias Holcomb wrestled 10U Novice 82 pounds and finished in first place,
pinning two of his opponents.
Julian Gonzalez placed 2nd in the 10U Novice 95 pound bracket, pinning one
of his opponents.
In the Novice 10U 110-120 weight division, Eli Garabay placed 3rd. Garabay
lost his first two but came back for an amazing finish. Eli won his third
match by major decision and pinned his opponent in 29 seconds after having
a very brief break.
Lill Osborn wrestled 12U 64-68 pounds and placed first. He won the first by
decision and the second by pinning his opponent.
Landon Castilleja placed 4th in the 12U 100 pound division.
"Overall, we are very proud of this team! We have a very young team and
came away with brackets and medals! We also got to give away 13 pins for
this tournament. So excited to see how the rest of our season goes!" coach
Krista Holcomb said.