Liberal Wins Wrong Stat Column in Hays
KSCB News - July 6, 2011 10:10 pm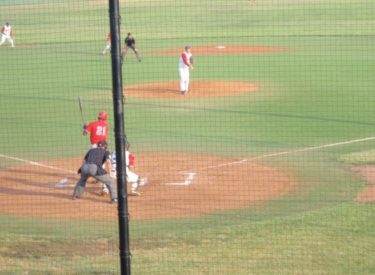 The Hays Larks salvaged their final home game this season against the Liberal Bee Jays with a 5-4 win over league leading Liberal Wednesday night at Larks Park in Hays. The BJ's out-hit Hays 16-8 but lost the game.
The Larks were the first team to defeat the BJ ace Josh Smith. The WSU lefty went four and two-thirds innings and allowed five runs and four earned runs in the loss. The BJ's were solid out of the bullpen and that kept them in the game. Brent Harrison pitched one and one-thirds innings scoreless before Jared Moore and Cale Elam put up scoreless innings.
Hays built a 5-1 lead with four in the fifth against Smith.
The Bee Jays, playing for the 12th consecutive day didn't quit. Liberal scored three in the seventh to make it interesting. Quay Grant drove home a run with a single and Ross Kivett singled home two to make it 5-4 Hays.
Liberal had two men on in the ninth but struck out with runners on second and third.
Hays is 16-10 overall and 10-9 in the Jayhawk while the BJ's are 23-8 overall and 13-7 in the Jayhawk.
Liberal hosts Haysville Friday, Saturday, and Sunday at 7 p.m. on Talkradio 1270 and kscbnews.net.