Liberal Wins WAC the Hard Way
KSCB News - February 26, 2016 7:35 am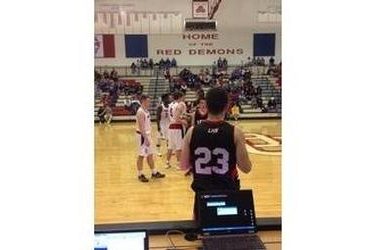 Liberal took the circuitous route to winning the WAC. After a loss to last place Garden City at home on Tuesday, LHS traveled to their house of horrors Thursday where they hadn't won since 2009. After a Red Demon 35 footer sailed wide left of the target, Liberal celebrated at least a share of a WAC championship, their first since 2008. Liberal won at the Dodge City Fieldhouse 58-56 Thursday night.
Timothy Fitzgerald returned from injury and sickness Tuesday to score a career high 21 points on five of five shooting from three point range. He added five assists and was six of eight at the foul line with clutch free throws down the stretch. Kylan Thomas added 12 points and nine rebounds. Liberal shot 51 percent and made six of 11 three pointers. Liberal made 12 of 21 free throws but the Red Demons were 5-14.
The Red Demons led 13-8 and 13-10 after one quarter. The Redskins led 22-21 at halftime. The Skins led by as many as 13 three times in the third. LHS led 41-32 after three and DCHS out scored LHS 24-17 in the fourth quarter.
Liberal is 15-5 and finishes 6-2 in the WAC while the Demons are 10-10 and 5-3 in the WAC. Hays is 5-2 in the WAC and plays at Great Bend Friday night and can also earn a share of the WAC with LHS with a win.
Liberal hosts sub state Wednesday at 6 in the Big House on 1270 and kscbnews.net.