Liberal Wins Home Quad
Brock Kappelmann - September 20, 2020 11:18 am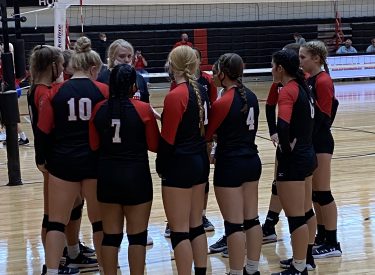 The Liberal volleyball team won all three matches in their quad in the Big House Saturday morning and afternoon.  Liberal defeated Southwestern Heights, Hugoton, and Dodge City and has won seven of their last nine.
The Redskins topped the Southwestern Heights Mustangs 25-18, 25-7.  Aubrey Warden had nine kills and Bree Horyna added five.  Logan Dodge had 21 assists.  Lizzy Cisneros had seven digs and Warden added six.  Rylie Hallman had five aces.
Liberal defeated the Hugoton Eagles 20-25, 25-15, 25-14.  Warden had 13 kills and Horyna added nine.  Dodge had 30 assists.  Cisneros had 27 digs, Horyna added 15, Dodge had 12, and Warden had 12.
LHS beat the Dodge City Red Demons for the second time in three days.  Liberal won 25-23, 25-20.  Warden had nine kills, Horyna had eight, and Hallman had seven.  Dodge had 17 assists.  Cisneros had 19 digs and Warden added 13.
Liberal is 9-6 overall and hosts Scott City in the Big House Tuesday at about 6 pm.  The JV dual begins at 4.