Liberal Volleyball has Size on their Side
Brock Kappelmann - August 26, 2022 12:10 pm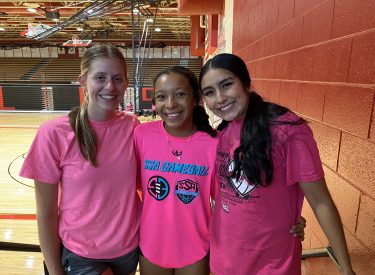 Coming off their first winning season since 2016, the Liberal High School volleyball team has both size and sizeable expectations.  Liberal had a winning record (19-16) after an 0-10 start in 2021 and won a playoff game.  This season, LHS has more length at the net than they have had in recent years.  They host the WAC Volleyball Tournament in October and have designs on a conference title late this season.
Katie Garcia is in her first full season as LHS head coach.  She stepped in right before school in 2021 for Megan Besecker.   She is trying to continue the upturn in the program.  Before last year's 19-16 season, the Redskins were 14-18, 16-21, 18-19, and 15-20 in 2020, 2019, 2018, and 2017.  They were 17-16 in 2016.  LHS  went 97-57 in four years under Thais Baziquetto from 2010-2013. Their last state appearance was 2008 when they went 29-12 and last won WAC in 2008 after also winning the conference in 2007(32-7) and 2006 (31-5).
Rylie Hallman leads the pack in her senior year.  She was all WAC as a junior and KSHSAA lists her as one of the top 25 players to watch in Western Kansas.  Other key players in the varsity rotation are Sr. Lizzy Cisneros, Jr. Elle Hatcher, Jr. Keyona Hall, Sr. Jenna Ormiston, Fr. Shamari Lewis, Sr. Rachelle Terrazas, Jr. Paris Bond, Jr. Hailey Contraras, and Sr. Ariana Hubbard.
Liberal was featured during Sportsguys Friday morning.
Schedule
August 27- at Wichita North Tournament
August 30- at Hutchinson Triangular (Campus)
September 1- at Garden City Triangular (Great Bend)
September 3- at Peryton
September 10- at Valley Center Tournament
September 13- at Guymon
September 15- at Dodge City
September 17- Liberal Tournament (Garden City, Dodge City, Hugoton, Southwestern Heights, and Meade)
September 27- at Dodge City Triangular (Garden City)
October 1- at Great Bend
October 4- Liberal Triangular (Holcomb and Scott City)
October 11- at Garden City
October 15- WAC at Liberal
October 22- Regionals
October 28-29- State