Liberal Volleyball has New Look After Banner Year
Brock Kappelmann - August 23, 2023 1:58 pm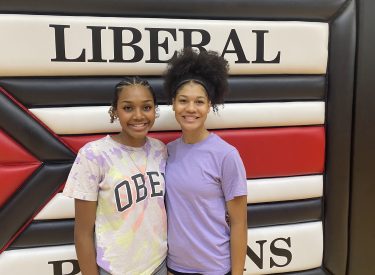 Liberal's volleyball team enjoyed a storybook finish to the 2022 season.  They won the WAC and made state for the first time since 2008.  Both triumphs came at home in the Big House in front of their fans.  But they lose a lot of that 27-10 team including first team all WAC selections Lizzie Cisneros and Rylie Hallman.   Katie Garcia enters her third year as head coach after a the 2021 team was 19-16 with their first winning season since 2016 and the team last year which took the program to their first ever 6A state tournament.
Some of the key players are Sr. OH Keyona Hall, So. RH, MH, and S Shamari Lewis, Sr. L Hailey Contreras, Sr. DS Lizzie Mannel, Sr. DS Kourtney Kapp, Sr. OH Paris Bond, Jr. utility Zoey Torres, Jr. S Hannah McCarter, So. RH Aurie Perry, Sr. MH Brooke Perry, and Jr. RS Ali Castro.
Garcia stepped in right before school in 2021 for Megan Besecker who is now head coach at Barton. She is trying to continue the upturn in the program. Before Garcia's 19-16 season in 2021, the Redskins were 14-18, 16-21, 18-19, and 15-20 in 2020, 2019, 2018, and 2017. They were 17-16 in 2016. LHS went 97-57 in four years under Thais Baziquetto from 2010-2013. Their last state appearance before last year was 2008 when they went 29-12 and had last  won WAC in 2008 after also winning the conference in 2007(32-7) and 2006 (31-5).
Schedule
August 26- at Wichita North Invitational
August 29- at Campus Triangular (Hutchinson)
August 31- at Garden City Triangular (Great Bend)
September 2- Perryton Tournament
September 12- Guymon
September 16- Liberal Tournament (Garden City, Dodge City, Hugoton, Southwestern Heights, and Meade)
September 21- Dodge City
September 26- at Dodge City Triangular (Garden City)
October 3- at Holcomb
October 10- Garden City
October 14- WAC at Dodge City
October 21- Regionals
October 27-28 State