Liberal Summer Soccer Goes Toe to Toe with Aquinas
KSCB News - June 26, 2012 2:20 pm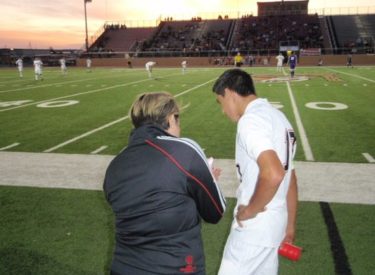 If those summer doldrums have you down and you miss high school sports, Lori Navarro provided some reason to be passionate about high schools sports during Tuesday morning's Sportsguys. She talked about the past and Liberal's state championship run.
She says after losing 9 of 11 starters from the season before, this wasn't the year she expected to win state.
She talked about the present, and Liberal's summer team playing in a Salina tournament this past weekend. Liberal played Derby to a 1-1 tie but won on penalty kicks and played mighty St. Thomas Aquinas to a tie but lost in penalty kicks.
She talked about the future says whether she coaches the Redskins past this year is in God's hands and leaves any possibility in coaching open. She says this might be her last year or she could coach 10 years or more.
Navarro says she values the spirituality and character of the soccer players above anything else.
She says it has been a busy summer for the soccer team. Even when she decided to take a two week break this summer, her team continues to train on their own. The Redskins lose 8 of 11 starters from last year's championship team.
They may play in more out of town tournaments in funding and time permit. But the high school team is also scrimmaging Juventus in Liberal made up of former LHS soccer players and Navarro says there is no better challenge than that for her team.
Click on the listen live icon for the interview.