Liberal Student Wins at Youth Entrepreneurs Competition
Joe Denoyer - June 21, 2018 4:12 pm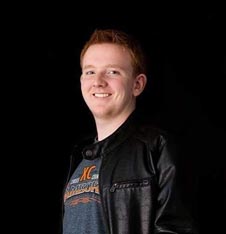 ( Youth Entrepreneurs Release)

Wichita, Kan. (June 21, 2018) – Kaden Classen, a senior from Liberal High School, was awarded $1,000 at the inaugural Youth Entrepreneurs Summit Big Idea National Competition on Thursday. Classen was named a national champion.
A national contest for high school entrepreneurs, the Big Idea competition represents the culmination of months of hard work by student participants to develop their boldest and most innovative business ideas. The Big Idea finals were a national stage for students to pitch their business proposals and put their entrepreneurial skills in action for a panel of expert judges. Youth Entrepreneurs is a year-long, high school elective program that instills the business skills, creative risk-taking and personal values necessary to succeed in today's market — and in life.
Classen's 365th Street Photography, a professional-quality photography service, was selected by the panel of experts for its ingenuity, thorough business strategy and level of value creation. Classen strives to offer best-in-class service at affordable prices and has enjoyed getting to know Liberal and the surrounding areas through his work. Classen intends to expand to family and senior photography with this grant.
"Our YE Summit student participants have been incredibly principled in the pursuit of their ideas," said YE President Kylie Stupka, "Kaden's enthusiasm about his ideas has left such a strong impact on his school, peers and community — encouraging others to follow their passions and become leaders."
Classen's achievements were recognized Thursday at an awards luncheon, where all visiting YE competitors and YE Summit participants were addressed by Dr. Steve Perry, principal of Capital Preparatory Magnet School, who spoke to the value of having an impact, a natural curiosity, a business purpose and growth experiences like the YE Summit. Over the course of this three-day Summit, 100 YE students from around the country heard from leading business and entrepreneurial figures, networked with YE peers and alumni, and participated in workshops to hone their business management skills.
Judges for the Big Idea competition included: Cameron Cushman, Director of Innovation Ecosystems at the University of North Texas Health Science Center; Tien Huynh, YE alumnus and founder of Huynh Investments; Yolanda Owens, Owner of Iwi Fresh Garden Day Spa; Cheryl Bicknell, Chief Strategy Officer and COO, Mariner Wealth Advisors; and Lee Benson, Founder/CEO, Execute to Win.
"The YE Summit is a great opportunity to gather our many regional chapters and celebrate how our students exemplify the YE principles of dedication and lifelong learning," Stupka said. "I am constantly impressed with the original thinking and inventive business ideas that our entrepreneurs produce."