Liberal Spikers Soar to New Heights
KSCB News - August 31, 2011 5:52 am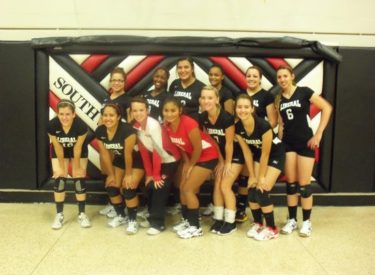 For the first time in three years, the Liberal High School volleyball team begins their season 1-0. The last two years, LHS has lost thrilling volleyball matches to SWH, but this year the Skins turned the tables. Liberal won 3-1 (11-25, 25-23, 25-16, 25-20) to open their season.
Makiah Adams led LHS with six kills while Jai Chapman and Marisol Regalado chipped in five kills a piece. Regalado had three blocks while Adams added two. Jai Chapman had four aces with a stifling jump serve. Katy Garcia dished 12 assists and Cynthia Cisneros added nine digs.
The Redskins played without injured Riley Hay while the Mustangs played without injured Whitney Garinger.
Liberal's JV rallied to defeat SWH (18-25, 25-27, 25-21, 25-18, 15-9)
Liberal plays at Garden City Thursday and plays the Buffaloes, Great Bend, and Holcomb.