Liberal Softball Sweeps Hugoton
Brock Kappelmann - April 28, 2021 6:45 am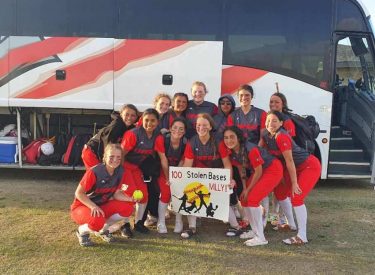 The Liberal softball team grabbed two much needed wins in Hugoton on Tuesday.  Liberal won 10-0 and 18-1 in Hugoton on Tuesday.
In game one, Jenna Ormiston tossed a one hitter for the win.  Liberal scored one in the first and one in the second before a three run third.  LHS had one in the fifth and the Lady Redskins had a four run seventh.  Jenna Ormiston was 3-4.  Ren Watt and Eyleen Vasquez had two hits a piece.
Liberal made quick work of Hugoton in game two ending the game after four innings.  The Lady Red scored two in the first and seven in the second before a five run third and a four run fourth.  Jenna Ormiston slammed a three run homer.  Ren Watt was 3-4 with four RBI's.  Lizzy Cisneros was 3-5.  Ormston pitched four strong innings for the win.  Hugoton had seven errors on the loss.
In the win, Milly McClure reached 100 career stolen bases.  She has 27 this season.
Liberal is 6-9 and hosts Hays Tuesday at 4  at the National Beef Family Sports Complex.