Liberal Softball Splits with Dodge City for 3rd WAC Win
Brock Kappelmann - May 13, 2022 6:36 am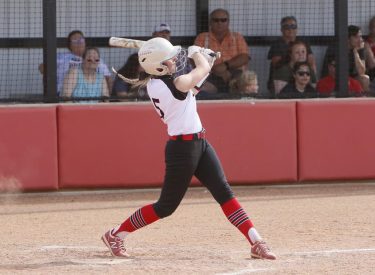 The Liberal softball team won three WAC games in 2022 after splitting with Dodge City Thursday afternoon and evening at the National Beef Sports Complex.  The Red Demons won game one 10-6 and the Redskins won game two 7-5.
In game one, DCHS scored four in the second to lead 5-1.  The Redskins scored four in the third to tie it 5-5.  Dodge scored one in the fifth and four in the sixth.  Dodge City out-hit Liberal 14-12 while the Demons committed five errors and LHS had three.  Taylor Harding, Jenna Ormiston, Amya Blake, and Zoey Torres had two hits a piece.  Maedeen McClure drove home two runs.
In game two, Liberal scored a run in the second before the Red Demons chased home three in the third.  The Redskins broke through with a five run fourth to lead 6-3.  LHS added an insurance run in the sixth to lead 7-3.  Dodge City made things interesting with two in the seventh.  Lexi Miller and Lizzy Cisneros had two hits.  Maedeen McClure, Jenna Ormstion, and Taylor Harding drove home two runs a piece.  Liberal out-hit Dodge City 10-4.  DCHS committed six errors and Liberal had five.
Liberal is 10-10 overall and 3-9 in the WAC.  Dodge City is 9-11 overall and 5-7 in the WAC.