Liberal Run Rules Boulder
Brock Kappelmann - July 19, 2020 7:21 am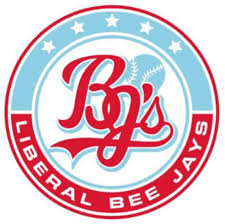 In a game which last eight innings due to run rule, the Liberal Bee Jays run ruled the Boulder Collegians 16-5 Saturday night at Carpenter Field in Boulder.  Liberal splits the two game series on the Collegians' home field.
Boulder struck first with a run in the first.  Liberal answered with three in the third.  Boulder scored in the second to make it 3-2.  The BJ's plated a run in the fourth to make it 4-2.  Boulder scored to in the fourth to tie it 4-4.  The BJ's took control of the game with four in the fifth to lead 8-4 before the Collegians scored in the bottom of the inning.  The BJ's scored one in the seventh and seven in the eighth.
Aidan Shepardson was 4-4 with three runs and two RBI's.  Caeden Trenkle was 4-5 with a double and three RBI's.  Nate White went 3-4 with two runs driven home.
Tyler Hankins started and worked three innings allowing three runs.  Harris Shoemaker went four innings allowing one run.  Bady Cox closed it out with a scoreless eighth.
Liberal is 22-4 and plays the Denver Cougars Sunday morning at 9:30 mountain time at All Star Park in Denver.  Fans aren't allowed to attend Sunday's game due to Covid 19.