Liberal Rally Falls Short in Baseball Regional
Brock Kappelmann - May 16, 2019 7:25 am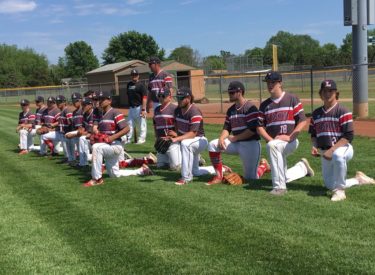 It was a surreal way to end a game Wednesday at Haysville's Plagens-Carpenter Complex.   Liberal players and fans were cheering wildly believing they had tied the game with a clutch and apparent two RBI single by freshman Shay Kerr.  It appeared the Redskins had tied the game 3-3.  However, Junction City appealed and it was ruled Liberal had missed third base as they were running home for the tying run.  So the finals was Junction City 3 and Liberal 2.
Braxton Hyde fell to 5-3 as he pitched five solid innings allowing two earned runs.  James Armstrong pitched a scoreless inning.  The Bluejays scored one in the first on a controversial ball four call with the bases loaded.  Junction City scored an unearned run in the third.  Liberal got on the board in the fourth when Pancho Terrazas doubled to left to score Elijah McCarter.  Junction City used a lead off double and a single by the second batter of the inning to lead 3-1 in the fourth.  The Redskins rallied in the ninth.  Braxton Hyde singled before Dylan Thompson and Brodie Warren walked to load the bases with one out.  With two outs, Kerr lined a single to right which appeared to have tied the game before the appeal.   The Bluejays out hit the Redskins 8-5 and LHS had the only error.
Liberal is 11-10 and Junction City went on to lose a 13-12 thriller to the host Campus which went 12 innings.