Liberal Proves Fabulous on Fourth Down in Win
KSCB News - October 25, 2014 7:34 am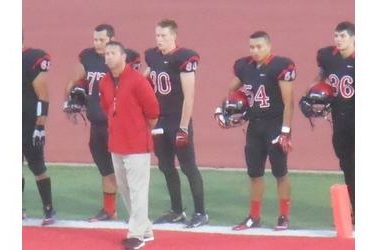 Liberal's execution on fourth down helped lift them to a senior night victory Friday. The Redskins were five of six on fourth down including both touchdowns in a 13-10 district eight win over the Eisenhower Tigers Friday night at Redskin Field. The Redskins are now one step away from making the 5A playoffs.
Eisenhower took a 10-0 lead in this game. Jared Hasik tossed his second interception of the season when Cole Collins picked off the pass and took it to the 35 of Liberal. Liberal's Miguel Alonso recovered an Eisenhower fumble at the 7:16 mark. Eisenhower's outstanding senior kicker Blake Lynch booted a 47 yard field goal on a still night with 2:26 to play in the first quarter. Blake Ramey's 11 yard touchdown run at the 10:15 mark of the second quarter made it 10-0. Liberal's fourth down magic continued when Hasik found Kyler Thompson over the middle for a 32 yard score on 4th and five to make it 10-6 which was the halftime score. Liberal safety Juan Rodriguez intercepted an Eisenhower pass halting their best drive of the night to begin the second half. Liberal drove down the field and finished a drive with a one yard quarterback sneak by Hasik on fourth and goal from the one 24 seconds before the end of the third. Victor Monarrez recovered a fumble with 3:14 to go in the game. Liberal forced three Eisenhower turnovers. Liberal had 277 yards including 71 from Rex Heronemus and 171 passing yards from Hasik while the defense held the Tigers to 177 yards.
Liberal is 3-5 and 2-0 in district while Eisenhower is 1-7 and 0-2 in district. Goddard topped Ark City 27-10 so the Lions and Bulldogs are both 1-1 in district. LHS plays at Ark City Friday. Liberal wins the district with a win at Ark City. They clinch playoff spot with a win or a loss by three or less or a Goddard loss to Eisenhower.