Liberal Police Work Rollover Accident
Joe Denoyer - February 20, 2020 12:03 pm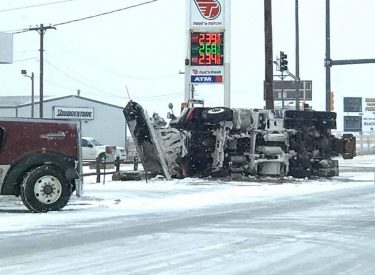 On Thursday, February 20, 2020 at approximately 8:52 a.m., officers were dispatched to the 2400 block of West Pancake Boulevard for a reported accident. Responding officers found a Kansas Department of Transportation snow plow on its side in the eastbound lane in front of the Toot N Totum convenience store.
Investigating officers found that a 30 year old male was driving the 2014 Freightliner west on Pancake Boulevard throwing sand when the vehicle lost traction on the icy road and began to slide. The vehicle slid across the eastbound lanes and struck the curb. The vehicle flipped onto its side when the tires caught the curb.
The vehicle and a decorative horse statue in front of the business suffered extensive damage. The driver was not injured.