Liberal Police Investigate Two Accidents
Joe Denoyer - August 13, 2020 4:53 pm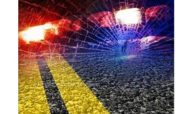 On Tuesday August 11th around 6:12AM, Liberal Police officers were dispatched to a single-vehicle motor vehicle accident located at the intersection of West Pine Street and South Western Avenue involving a motorcycle and a single rider. Officers believe the male was traveling westbound on Pine Street when he lost control of his vehicle and crashed into an adjacent ditch. Following EMS assessment, the rider was transported to a local hospital for treatment of injuries sustained in the accident.
The cause of the crash remains under investigation.
Then later that afternoon around 4:28PM, Liberal Police officers were dispatched to the intersection of Tucker Road and Kansas Avenue for a report of an injury motor vehicle accident involving a 2015 Infiniti Q40 and a 2003 Chevrolet Suburban. Information was developed that the Infiniti Q40 was making a left-hand turn at the corresponding left turn signal to turn west onto Tucker Road when it was struck by the Chevrolet Suburban which failed to stop at the red stop light at this location. All injured parties were administered to by EMS personnel and refused transportation to local medical facilities.
Officers believe the driver of the Chevrolet was distracted prior to and at the time of the accident and was issued a citation for failing to stop at a displayed red light.