Liberal Noon Lions Club celebrates 100th Anniversary in Liberal
Joe Denoyer - September 13, 2021 3:11 pm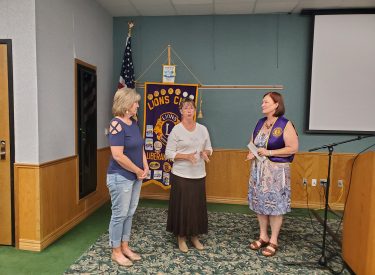 Liberal Noon Lions Club celebrates 100th Anniversary in Liberal
As part of its 100th year Anniversary Celebration, Liberal Lions Club President Sally Fuller presented Rena Cross, Director of Crossroads Center, with a check for $1,600 at the Sept. 13 meeting to purchase necessary equipment for the therapeutic horse riding center. The Liberal Noon Lions Club was chartered in Liberal on July 1, 1921.
"Crossroads Center, with its mission to help individuals who can benefit from a horse therapy program at no charge, has been one of our special projects since it was started in Liberal," said Fuller. In fact, the Liberal Club was instrumental in getting a Lions Foundation grant of $37,500 in 2003 to help Crossroads Center build its indoor arena.
The $1,600 was raised by the Lions Club's pancake feed in July with some additional donations from members. "We have traditionally given the Crossroads Center $500 every time we have a pancake feed but we wanted to increase our donation as part of our 100th Anniversary Celebration," Fuller said.
The Lions Club also provides eye exams and glasses for the youth in the community and collects eye glasses for recycling. "We have transported thousands of glasses from Liberal to the state headquarters for processing. These glasses are taken to third world countries as optometrists and ophthalmologists donate their time to provide the exams and services. "
While vision has been one of Lions Club's oldest priorities since it was challenged by Helen Keller at its 1925 convention to be "Knights of the Blind," its other priorities include diabetes, hunger, environment and childhood cancer.
Currently the Liberal Noon Lions Club invites two high school students to serve as Junior Lions every month and those students are then eligible to apply for two $500 scholarships that are awarded every year. Another ongoing project is bringing in the Lions Mobile Screening Trailer to provide free eye and hearing screenings at the Southwest Medical Center annual health fair.
In 2017, the local club installed a water fountain at Light Park which was in honor of the International Lions Club 100th Anniversary and was dedicated to the late Don Hatfield who was a long-time member and was instrumental in the project.
Throughout the years, the Liberal Noon Lions Club has provided donations to the Seward County United Way, the Stepping Stone Shelter, Babe Ruth Baseball, Seward County Historical Society, Relay for Life, as well as many other non-profit organizations. It also established a Lions Club Endowment Fund with the Seward County Community College Foundation.
Since 1917, Lions have served the world's population through hard work and commitment to make a difference in the lives of people everywhere. Currently, Lions Clubs have 1.4 million members serving in more than 44,600 clubs in 189 countries and geographical areas.
Lions Clubs International is the world's largest service club organization. Lions are recognized