Liberal Man Burned In Panhandle Explosion
KSCB News - August 18, 2010 12:00 am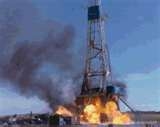 A Liberal man remains in critical condition at the Lubbock Burn Center after 50 percent of his body was burned last week in a flash tank explosion, the Texas County Sheriff's Office said.
The accident occurred last Thursday shortly before 4 p.m., when employees from Lonestar Services, LLC, based out of Liberal, were working two miles North of Hwy. 64 on Mile 22 near Goodwell. Officials explained that it happened near the intersection of Mile 22 and Road O in the middle of a field.
"They were on top of a 15 foot tank," said Texas County Chief Deputy Matt Boley.
"They were welding and it ignited fumes which caused a flash explosion."
David O'Neal, aka Salvador Banuelos of Liberal was injured when 50 percent of his body was burned and he fell 15 feet off the tank. His age was unknown.
Responding to the accident was Goodwell EMS, Guymon Fire Department and Texas County Emergency Management. Banuelos was flown to Lubbock where his last known condition was critical.