Liberal Loses a Wild One to Clearwater
Brock Kappelmann - July 15, 2019 7:15 am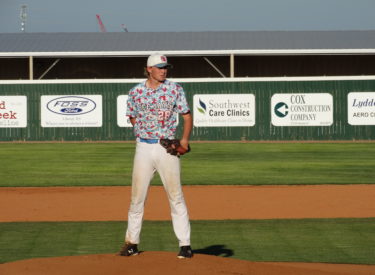 It was not a thing of beauty.  But it was wildly entertaining.  The Liberal Bee Jays rallied from being down 7-1 to lead 9-8 but ultimately cough up the lead and lose 10-9.  It's their second straight loss to Clearwater who has a losing record and is about to conclude their season.
Clearwater jumped on the Bee Jays for two in the second and two in the third for a 4-0 lead.  Liberal left the bases loaded but did not score in the fourth.  Liberal finally scored in the fifth when Tristan Stacy  and Jordan Williams singled to lead off the fifth.  Trevor MacDonald grounded out to drive home Stacy and make it 4-1.  Clearwater scored three runs on two hits and four walks in the sixth to lead 7-1.  Liberal rallied with five in the sixth.  Justin Quinn singled and Tristan Stacy singled him home.  MacDonald doubled home a run.  Connor Emmet singled home two runs.  Liberal scored another run on an error to make it 7-6.  Clearwater had three errors in the inning.  Liberal tied the game in the seventh without a hit as the Outlaws made another error.  The Outlaws scored one in the eighth to lead 8-7.  Liberal scored two in the eighth to lead 9-8.  Brandon Holdren singled home the tying run and Quinn hit a sac fly for the lead.  But Clearwater scored two in the ninth to lead 10-9.  Clearwater out hit Liberal 13-12 and Clearwater had four errors compared to Liberal's two.
JJ Rytz started the game and went five innings with four runs, four strikeouts, and one walk.  Jake Reed went 2 and 1/3 allowing one run.
Liberal loses two straight for a second time this season.  But the other consecutive losses were at Dodge City and at Hays.  Clearwater is 16-20 overall and 13-18 in the KCLB.  Liberal is 23-12 and 17-12 in the Kansas Collegiate.  The same two teams meet Monday night at 7 at Brent Gould Field with the Dugout Show at 6:45 on 1270 and kscbnews.net.  Liberal Kenworth is the buyout sponsor.