Liberal Legend Navarro Leaves Soccer Program
Brock Kappelmann - November 23, 2020 2:34 pm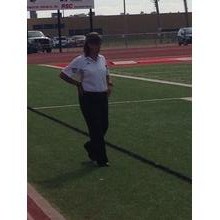 Chad Baalman
Liberal High School Boys Soccer coach Lori Navarro has resigned as the head boys soccer coach following the 2020 season.  Navarro will maintain her position as an ESL teacher as Liberal High School.  Coach Navarro was instrumental in starting the boys soccer program at Liberal High School, being the first and only head coach of the program.  She just completed her 23rd year as the head coach of the boys program.
"I will forever be grateful for the opportunity that has been given to me by Liberal High School over the past 23 years.  Although it is painful and regretful to leave this position, I look forward to what the future holds.  I wish the boys soccer team every success and hope they can continue on the tradition of excellence."
Liberal High School would like to thank Coach Navarro for all she has done for the Liberal High School Boys Soccer program, USD 480, and the Liberal community.  She will leave a lasting mark on the program.
Navarro finishes with a career record of 291-97-14, most recently finishing a 9-4 season.  Liberal High School will have some holes to fill in the roster, as they graduated an outstanding class but have many underclassmen who are ready to step up and continue the successful program.
Interested coaching candidates should visit the district website to apply.
TEAM ACCOMLISHMENTS
Record 291-97-14 22 winning seasons 1 losing
13 Conference Championships 11 consecutive
13 Regional Championships
10 final four appearances
1- 4th place finish
3- 3rd place finishes
4 -State Runner-up's
1- State Championship
Were featured on ESPN Rise Magazine
Were ranked Nationally 7 times
COACHING ACCOMPLISHMENTS
Conference coach of the year 13 times.
Hutchison News Coach of the year 8 times
Regional coach of the year 5 times
State coach of the year 5 times
NSCAA Kansas small coach of the year 3 times
NSCAA Adidas Regional coach of the year 2 times
Nominated for National coach of the year
Selected as a Master Coach to the Coaching Principles panel from the American Sport Education Program