Liberal Learning Jet To Help Students Take Fflight
KSCB News - May 27, 2014 8:22 am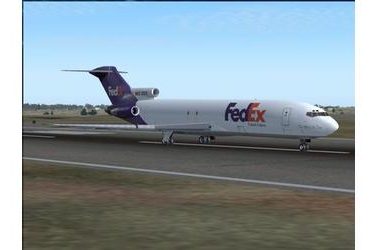 Seward County Community College/Area Technical School — in collaboration with the MAAM (Mid-America Air Museum) Foundation, the City of Liberal and USD 480 — aims to bring new excitement to math and science in the redesigned space inside of a Boeing 727.
The Liberal Learning Jet, donated by FedEx to the MAAM Foundation, is scheduled to land in Liberal at 9 a.m., June 5, at the Liberal Airport and taxi to the Mid America Air Museum where it will become a science, technology, engineering, and mathematics (STEM) classroom.
Janese Thatcher can't wait. The SCCC/ATS Dean of Career and Technical Education has an affinity for the air industry and real-life applications for math and science; she loves to share that passion with students of all ages.
"The objectives of this project are to provide students with a learning experience that connects math and science (STEM) subjects to exciting, real-world applications and to foster confidence in the students' ability to succeed," Thatcher said. She also hopes the Learning Jet will introduce students to the many different careers available in the technical and transportation industries.
"We especially want to provide role models for women and minority students, as often they underestimate their ability to succeed in technical career areas," she shared. "As a woman I certainly did at first, but went on to be an aircraft mechanic who worked on jets including a B727."
The jet, currently dubbed "Alina," will get a makeover to create a learning space suitable for 30-60 students at a time, with laptop stations and audio/visual equipment suitable for presentations. The jet will be deactivated, defueled and only certain systems that coincide with planned activities will be operational. Portable furnishings will allow the space to be converted into conference space. Future plans include simulator stations for student use.
"Imagine a fourth-grader who has never been on an airplane finding herself in the cockpit of a 153-foot jet, listening to the air traffic controller through the jet's radio system," Thatcher said. "It is up to her to decide — with the information provided about current weather conditions — whether it is safe for a jet to take off. That will be a lesson on temperature, dew point and atmospheric pressure she will remember all her life."
Before that pivotal moment, though, the jet will require considerable work. Thatcher is optimistic the community will support the project. Presentations to the Liberal City Commission and the USD 480 Board of Education were met with warmth and excitement. Both bodies voted unanimously to collaborate on the project.
"We received so much support and enthusiasm already. When this was first proposed, everyone saw the possibilities to improve math and science skills for our students in a way that's exciting and innovative and will stimulate lifelong learning," Thatcher said. "We are accomplishing so much more together than if we added up each of our efforts by themselves. It will take a small army to renovate and operate this jet, and I am certain that we'll have a wonderful group of people volunteer."
Thatcher hopes to capitalize on the jet's learning potential right from the start, with the possibility of allowing students in the SCCC/ATS technology programs to participate. With courses offered in welding, machine technology, HVAC repair, metallurgy — as well as more academic coursework in physics and mathematics —SCCC/ATS students will find plenty of opportunities to put their classroom learning to work.
Once the project is complete, the Liberal Learning Jet will benefit students in elementary, middle- and high school, not only from Liberal but from the surrounding communities in the region . It's the perfect destination for a school field trip, at a fraction of the price such an experience would normally require.
"To enable students to experience such a large jet up close and in-person, schools normally would have to take expensive field trips to the few museums that have them on display, such as Chicago's Museum of Science and Industry, Seattle's Future Flight museum, or the Smithsonian," Thatcher pointed out. "With the Liberal Learning Jet, Kansas and surrounding states' schools can provide their students such an exciting excursion on a more regular basis."
The public is invited to attend the Thursday morning landing of "Alina," at 9 a.m. June 5 at the MAAM runway. The site of a United States Army Air Base during World War II, the hangar and airstrips were later converted to airplane manufacturing by Beech Aircraft. Since 1987, the site has operated as the Mid America Air Museum, owned and operated by the City of Liberal.
Thatcher said it's the perfect spot for the Liberal Learning Jet, and a symbol of how community cooperation can achieve great results.
"We are all working toward the same thing — a better future with a better quality of life for our kids, and we can make that happen. My hopes are that the students enjoy learning and become better prepared to attend college because they understand how math and science create experiences in our everyday lives," she said. "Besides, who would turn down a chance to go into a big jet to learn?"