Liberal Hosts WAC Girls Tennis
Brock Kappelmann - October 6, 2020 6:35 am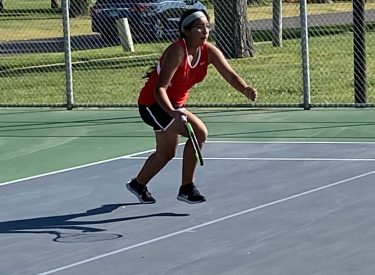 Blue Bonnet Park and Rowley Tennis Courts were the host site for the 2020 WAC Tennis Tournament.  Garden City won the WAC with 13 points.  Dodge City had 10, Great Bend 8, Liberal 6, and Hays 3.  Liberal's team was Priscilla Vasquez at number one singles, Jaciana Rivera at number two singles, Riddhi Bombaywala and Brianna Sanders at number one doubles, and Aracely Jurado and Katie Classen at number two doubles.  Rivera placed third in the WAC in number two singles.
The WAC Coach of the year is Garden City's Logan Bevis and the WAC Player of the Year is Garden City's Sage Riggs.
Liberal competes in their 6A regional Saturday at Wichita North.  The teams competing in Wichita are Dodge City, Garden City, Haysville-Campus, Hutchinson, Liberal, Wichita-North, Wichita-South, and Wichita-West.