Liberal Girls Win Soccer Opener
Brock Kappelmann - March 18, 2018 9:51 am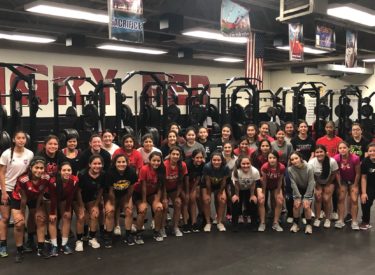 Kim Alarcon is right back into the soccer swing of things.  One week after playing in her final basketball game of the season, Alarcon scored four goals as Liberal won their opener 4-1 over the Wichita Classical Saints Saturday at the Gary Cornelsen Sports Complex.
Alondra Alvarado, Gisselle Melendez, and Aileen Moreno each had one assist.  LHS led 2-0 at halftime.  Alarcon opened up the second half scoring for her hat trick at the 20 minute mark.  Classical got on the board with 15 minutes remaining in the game by the way of a free kick that went over goal keeper Evelyn Rios.  Alarcon scored her 4th goal in the game on a break away play which left her one on one with the Saints keeper for a goal with six minutes left.
The Redskins led shots on goal 18-4 and led corner kicks 4-1.
Liberal opens their WAC season against Dodge City Tuesday at Dodge City Memorial Stadium.  Dodge has won the past two WAC titles.  The JV begins at 4 and the varsity follows at about 5:45.