Liberal Girls Rally Past Hays
Brock Kappelmann - January 7, 2023 6:45 am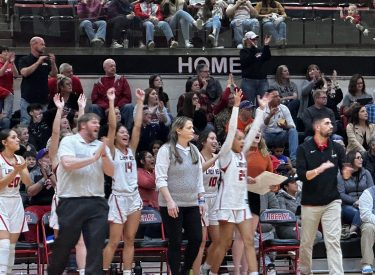 Hailey Contreras scored 26 points and the Liberal Lady Redskin used a furious 4th quarter rally to defeat Hays 59-50 Friday night in the Big House.  Liberal trailed by as many as eight and trailed by four in the fourth quarter but out paced the Lady Indians 20-11 in the fourth quarter.
Hays jumped on Liberal early to a 9-3 lead and led 12-9 after one quarter.  Hays led 29-21 in the second quarter and 30-24 at halftime.  Liberal cut the lead to two at 34-32 and 38-36 and finally took the lead 39-38 when Jenna Ormiston hit a three toward the end of the third quarter.  It was 39-39 after three quarters.  Hays led 43-39 before Rylie Hallman happened.  She hit a three and scored on two layups after steals to lead Liberal to a 50-45 lead with 2:05 to play.
Liberal shot 37 percent and Hays shot 36 percent.  Liberal was 17-27 at the free throw line and Hays was 15-27.  LHS made 8-22 from three point range and Hays was 3-16.  Hays led points in the paint 26-18 but Liberal had eight steals to four by Hays.
Hailey Contreras scored a career high 26 points on 6-10 shooting.  She was 4-8 from three and 10-12 at the free throw line.  Rylie Hallman had 13 points on 6-7 shooting with three steals.  Shamari Lewis had seven rebounds and Elle Hatcher had six points and six rebounds.
Liberal wins their 10th in a row against Hays and 14th of the past 15 have gone Liberal's way against HHS.  Liberal is 6-0 and 1-0 in the WAC and Hays is 4-3 and 0-1.  Liberal plays at Garden City Tuesday night at 6pm with Redskin Pre-game at 5:45 on 1270 and 92.3.