Liberal Girls Aim Big in 2021
Brock Kappelmann - March 22, 2022 1:50 pm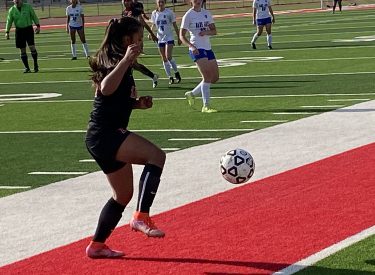 The Liberal girls soccer team opens their soccer season Thursday at home against Garden City.  Liberal has nine seniors including WAC Player of the Year Ashley Carrillo coming back from last year's team which went 8-9-1 with a playoff win over Junction City and 4-3-1 in the WAC.  Liberal went 7-8-3 with a playoff win in 2019 with a playoff win over Wichita South.  Liberal was 6-10-1 in 2018, 8-9-1 in 2017, and 7-10 in 2016.  Those records are significant because before 2016, only once had the Liberal girls won seven or more games in a season (2008).
Some of the key players for Liberal are senior forward Ashley Carrillo, sophomore midfielder Arely Molina, freshman forward Nicole Catalan, senior goal keeper Ashley Melendez, sophomore goal keeper Ashley Acevedo, senior back line Leslie Galindo, senior back line, center mid fielder, and forward Johana Ortuno, senior forward Sadie Solis, senior back line Alexia Martinez, and senior forward Valeria Gonzalez.  Gonzalez and Carrillo were first team all WAC players last year.  Carrillo scored 20 goals with five assists.
Coach Carlos Ruiz is in his sixth season and seventh year (counting 2020 Covid year) at the helm of Lady Red soccer.  Arlene Ruiz, Monica Vega, and Viviana Ortiz are the assistants meaning all four coaches are from Liberal.  Ruiz was a guest during Sportsguys on Tuesday morning.
Thursday, Mar 24, 2022
Match
5:00PM
Garden City
Liberal High School

Redskin Field

Monday, Mar 28, 2022
Invitational
4:00PM
Away vs.

Multiple Schools

Wichita-South High School

Monday, Apr 4, 2022
Game
6:30PM
Great Bend
Liberal High School Redskin Field

Redskin Field

Tuesday, Apr 12, 2022
Game
6:45PM
Away vs. Guymon
Guymon High School

Thursday, Apr 14, 2022
Game
6:30PM
Away vs. Great Bend
Cavanaugh Soccer Complex

Tuesday, Apr 19, 2022
Game
6:30PM
Away vs. Dodge City
Dodge City Memorial Stadium


 (Rescheduled from 03-22-22)

Thursday, Apr 21, 2022
Game
6:30PM
Hays
Liberal High School

Redskin Field

Saturday, Apr 30, 2022
Game
2:00PM
Away vs. Classical School of Wichita
Stryker Sports Complex

Monday, May 2, 2022
Tournament
TBD
Away vs.

Multiple Schools

Wichita-North turf field

Tuesday, May 3, 2022
Tournament
TBD
Away vs.

Multiple Schools

Wichita-North turf field

Thursday, May 5, 2022
Tournament
TBD
Away vs.

Multiple Schools

Wichita-North turf field

Saturday, May 7, 2022
Tournament
TBD
Away vs.

Multiple Schools

Wichita-North turf field

Tuesday, May 10, 2022
Match
5:00PM
Away vs. Garden City
Garden City High School

Thursday, May 12, 2022
Game
6:30PM
Dodge City
Liberal High School

Redskin Field
| | |
| --- | --- |
| | |