Liberal Firefighters Extinguish Residential Fire at 111 W. Spruce St.
Joe Denoyer - July 1, 2020 5:16 pm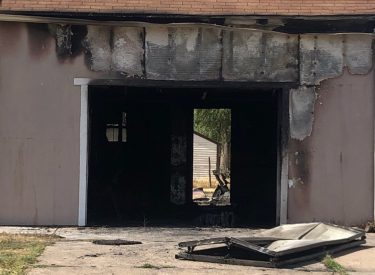 At 11:17 am Wednesday the Liberal Fire Department was dispatched to 111 W. Spruce St. for a reported structure fire.
First arriving police officers reported that the attached garage was fully engulfed and that all occupants had exited the home. Firefighters worked to darken down the fire in the garage area while simultaneously entering the home to search for extension into the living spaces. The fire was declared under control at 11:38 am.
Due to the extent of fire damage and construction of the garage addition firefighters continued ventilation and overhaul efforts for nearly two hours. The entire garage area was completely gutted in the fire and the remainder of the residence suffered from severe smoke and heat damage.
There were six occupants in the home at the time of the fire, three adults and three children. Three occupants suffered injuries in the fire. One adult female was transported to Southwest Medical Center by Seward County EMS with lower leg injury. Another adult female and one adult male were examined at the scene and refused further treatment or transport.
The fire is believed to be accidental in nature and to have originated in the garage. All units were returned to service at 2:50 pm.
Liberal Fire responded with a total of 15 personnel & two engines. Also assisting at the scene were the Liberal Police Department, Seward County EMS, Black Hills Energy, Southern Pioneer Electric and the American Red Cross.