Liberal Fire Dept. Fights Residential Fire – 410 S. Cain Ave.
Joe Denoyer - February 4, 2021 4:11 pm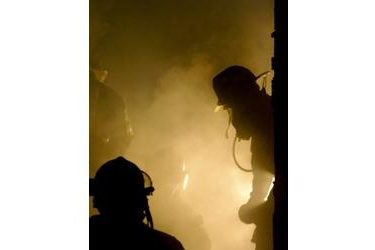 At 7:33 pm Wednesday the Liberal Fire Department was dispatched to 410 S. Cain Ave. for a reported residential structure fire.
First reports indicated that there was an active fire in the closet of one bedroom in the home and that all occupants had evacuated.  Liberal Police officers were the first two responders to arrive on scene and were informed that a one-year old child was still in the home.  The officers were able to make entry to a doorway just inside the home and safely rescue the child.  The two officers were evaluated at the scene by Seward County EMS for smoke inhalation and the child was transported to SWMC for further evaluation and treatment.
After confirming that there were no additional occupants, firefighters were able to locate the fire and contain it to one room of the home.  However, the entire residence suffered significant smoke and heat damage throughout.  The fire was declared under control at 7:57 pm.  The exact cause of the fire remains under investigation at the time of this release.  All responding units were cleared from the scene and back in service at 9:21 pm.
Liberal Fire responded with a total of 16 personnel, two engines, and one utility vehicle.  Also assisting at the scene were the Liberal Police Department, Seward County EMS, Southern Pioneer Electric & Black Hills Energy.