Liberal Fire Dept. Dispatched to a Garage Fire 613 Seward Ave.
Steven Rains - September 3, 2019 3:10 pm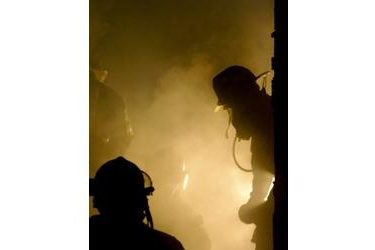 Garage Fire – 613 Seward Ave.
At 4:12 pm Monday the Liberal Fire Department was dispatched to 613 Seward Ave. for a report of a garage fire.  While en-route additional information indicated that the fire was in a detached garage and that the building was fully involved.
First arriving units at 4:17 pm reported fire from doors and windows with exposure to overhead power lines.  They requested a hydrant line and defensive attack for the fire.  The fire was declared under control at 4:43 pm.  Firefighters were challenged by multiple factors including the position of the overhead electric service line, a burning and leaking 2 ½ gallon gasoline can on the walkway in front of the garage and temperatures near 100 degrees at the time of the fire.
The garage was a total burnout however there was no damage to the residence on the property.  A juvenile male was located by Liberal police officers suffering from significant burn injuries and was transported to SWMC by Seward County EMS personnel.  This fire is being treated as incendiary in nature and is believed to have been accelerated by gasoline stored on site.  Firefighters remained on scene for an additional 1 ½ hours locating hidden pockets of fire, overhauling the smoldering contents of the garage and investigating the fire.  Additionally firefighters returned to the scene at 7:27 pm and 12:35 am to extinguish two small areas of smoldering material in the attic and roof area of the garage.
Liberal Fire responded with a total of 18 personnel and two engines.  Also assisting at the scene were the Liberal Police Department, Seward County EMS, Black Hills Energy & Southern Pioneer Electric.