Liberal Fire Dept Battles Residential Fire
Joe Denoyer - May 1, 2018 11:37 pm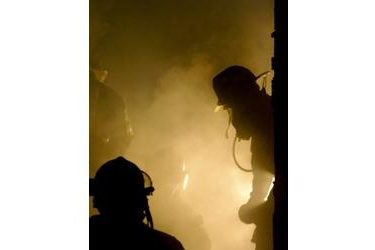 At 4:30 pm Monday Liberal firefighters were dispatched to 403 N. Purdue when a passerby reported flames from the front door of a residence.  As units first began arriving at that address a second reporting party advised the fire was actually located at 403 S. Purdue.  First arriving personnel reported moderate smoke from the eaves of a duplex and flames from the front door.  Firefighters made entry and extinguished a fire in the living area of the residence.  However the fire had also burned through the floor into the crawl space and had entered the attic space over both halves of the duplex.  Firefighters were able to pull ceiling and eaves to access the fire and bring it under control in approximately 45 minutes.  Personnel remained on scene until 7:26 pm extinguishing hot spots and trying to determine the origin and cause of the fire.
Both residences were unoccupied at the time of the fire and no injuries to responding personnel were reported.  The entire structure suffered significant fire, smoke and water damage and was rendered uninhabitable.  Representatives of the American Red Cross were called to provide assistance to both families.  Liberal Fire investigators were able to determine the area of origin.  The exact cause has not been determined at this time, but the fire is believed to be accidental in nature.
Liberal Fire responded with a total of 17 personnel and threeengines.  Also assisting at the scene were the Liberal PoliceDepartment, Seward County EMS, Liberal Water Department,Southern Pioneer Electric, Black Hills Energy and American Red Cross.