Liberal Fire Department To Celebrate 100 Years of Service
Joe Denoyer - October 11, 2016 10:34 am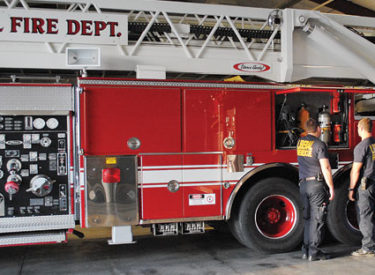 The Liberal Fire Department invites the community to the North Fire Station at 110 W. 15th Street this Saturday, October the 15th, for an Open House as they celebrate 100 years of service to the Liberal Community.
The Liberal Fire Department was established on June 5th 1906, and incorporated Liberal's 1st fire chief and 13 volunteer firefighters. Liberal's 1st Fire Department apparatus was a newly bought American LaFrance fire truck, this apparatus was purchased at a price of $3,000.
Then in 1968, Liberal's volunteer fire department became a combination fire department with 7 full-time employees, which consisted of a Fire Chief, 6 full-time firefighters, and 17 volunteers.
The Department,  in 2016,  consists of 2 fire stations, 21 full-time firefighters, 15 volunteers with 11 apparatus'
The Open House will begin at 11:00am with a brief ceremony featuring dignitaries, and past and present Fire Chiefs, and firefighters. The Department is planning on cooking enough food for 1000 people, with tours of the station, hand outs and giveaways throughout the afternoon. So load up the family, come to the station, and celebrate with the brave firefighters who serve and protect the Liberal Community.