Liberal Finishes Football Season at Maize
Brock Kappelmann - October 27, 2018 3:54 am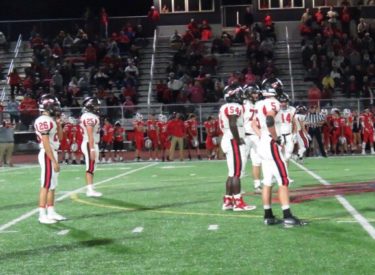 The Liberal Redskins finish 1-8 after a 56-15 loss at the Maize Eagles on Friday night.  The Eagles built a 42-0 halftime lead and amassed 595 yards of offense against the Redskins.  Maize quarterback Caleb Grill was 34-44 for 472 yards.  The Redskins had 192 yards and Maize had 639 yards.
Grill's one yard run at the 6:32 mark made it 7-0 after the PAT.  Grill found Brandle Studevan for a 17 yard score to lead 14-0.  That was the score after one.  A hook-and-ladder by the Eagles gave them at 21-0 lead.  Grill's TD pass to Preven Christon made it 35-0.  Grill's one yard TD run made it 42-0 with 22 second remaining in the half.
Alex Yanez forced a fumble and Syris Dunlap scooped the ball up and ran for a touchdown at the 10:10 mark.  Liberal scored the only points of the third quarter.  Grill found Clay Kelley for a score to make it 49-7.  The Redskins used three quarterbacks on the night: Syris Dunlap, Braxton Hyde, and Alex Esparza.  Esparza ran for a score with 5:03 to play and got the two.  Backup quarterback Isaac Stanton lofted a 58 yard TD for Creighton Kelley for a 58 yard score.
Liberal loses their 11th consecutive playoff game.  Maize is 8-1.