Liberal Convention and Visitors Bureau Participates in Kansas Sampler Festival
KSCB News - May 6, 2009 12:00 am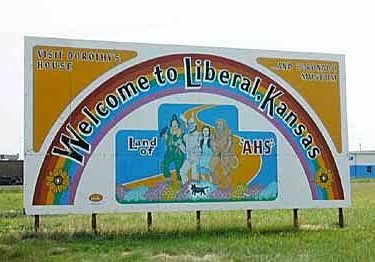 The 20th annual Kansas Sampler Festival in Concordia's city park came to a close just before the rain started. Local festival director Susie Haver reported that more than five thousand people attended the May 2-3 event.
Liberal was one of 135 communities promoting Kansas day trips, entertainment, food, products, and historical performances. Representing Liberal Convention and Visitors Bureau were Sally Fuller and JoAnn Combs.
Sally Fuller said, "Liberal has been represented at almost all of the Kansas Sampler Festivals by either CVB or Chamber of Commerce representatives," Sally Fuller, CVB Director, said. "We tell people about what there is to do in Liberal, hand out information and make silver dollar size pancakes to give people a "sample" of International Pancake Day."
Local festival directors were Susie Haver and Tammy Britt of Cloud County Tourism. WenDee LaPlant is the Foundation's festival coordinator.
"Because the festival changes locations every third year, we get a chance to promote Liberal to a whole new group of people," Fuller said. "There are some festival followers who come every year but there are also a lot of attendees who have never attended and it is a great opportunity to educate them about Kansas communities."
Leavenworth County will be the host for the 2010 and 2011 event.