Liberal Breezes by Buffs for Second Straight Trip to State
Brock Kappelmann - March 2, 2019 6:40 pm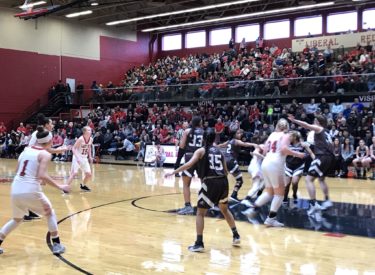 For the first time, the  Liberal Lady Redskins will be a part of the 6A state tournament.  The Lady Red left no doubt about that in a 46-18 rout of the visiting Garden City Lady Buffaloes in the Big House on Saturday afternoon in front of a large Big House crowd.
LHS led 9-2 after one quarter and led 11-2 before Garden City made their first field goal to make it 11-5 with 4:30 to play in the first half.  So the Lady Redskins held the Lady Buff without a field goal for the first 11:30 of the game.  That was the only field goal of the first half for Garden as Liberal bolted to a 20-6 halftime lead.  Liberal out scored Garden City 16-6 in the third quarter t o lead 36-12 after three.  Liberal built a 30 point lead for a running clock with a 42-12 advantage with a little under 5 minutes to play.
Katie Horyna rose to the occasion burying three 3 pointers and scoring 15 points.  Machia Mullens had 11.  Aubrey Warden had eight.
Liberal wins their 33rd consecutive home game and finishes 11-0 at home this season.  The Lady Red program advances to state for a second straight year for the first time since 1997 and 1998 under coach Brett Trippet.  Liberal finished third in 5A last year in Topeka but this year advances to 6A state at Koch Arena at Wichita State University.  LHS will be the one seed and will play Thursday against an opponent and at a time to be announced.  The game will air on 1270 and kscbnews.net.