Liberal Blanks Great Bend
Brock Kappelmann - April 13, 2018 6:14 am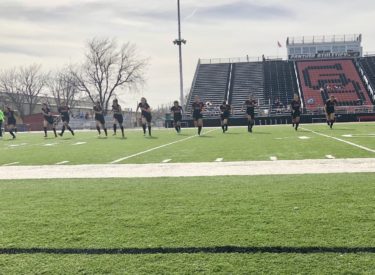 Final from Great Bend:
Lady Red: 3
Lady Panthers: 0
-Freshman Bryanna Banuelos opened up the scoring in the first half at the 12th minute mark after a corner kick from senior center midfielder Alondra Alvarado.
-We controlled the tempo of the game for most of the time and had a strong first half tallying in 9 shots on goal to their 3.
-Halftime score: 1-0
-Junior forward Kim Alarcon opened up the scoring in the second half at the 8th minute mark after winning the ball in the air outside of GB's box and volleying a great shot that went in despite the keeper making contact with the power shot with both hands.
-We continued to create opportunities forward and possessed the ball very well allowing us to get open looks and led shots on goal in the second half 6-1.
-Kim Alarcon scored her second of the night to close the game at the 27th minute mark on a build up play starting with our GK, def, then to Alondra Alvarado who dribbled and pushed the the play up and delivered a through ball pass that left Kim 1:1 with the last GB defender and out ran her leaving her 1:1 with the GK who came off her line to close her off. Kim struck the ball with her left foot beating the keeper and the ball rolled in the net with GB defenders sprinting to it.
Final stats:
Shots on goal:
Liberal: 15
Great Bend: 4
Corner Kicks:
Liberal: 4
Great Bend: 1
Record: 2-5-1
WAC: 1-2-1
JV ties GB 2-2
JV record 1-2-1
Next up is 2017 4A state runner up, TMP – in Hays (varsity only) kick off is set for 4pm.
Carlos Ruiz