Liberal Bats Come Alive in Sweep at Woodward
Brock Kappelmann - April 16, 2022 7:24 am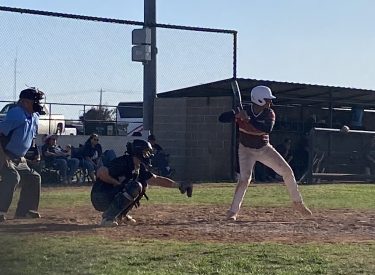 The Liberal Redskins brought their offense to a double header at Woodward High School on Friday.  The Redskins are back to .500 on the season after beating the Boomers 16-7 and 19-12.
In game one, both teams scored in the first.  The Redskins plated six in the second and Woodward scored five to make it 7-6.  That scored stood until the fifth when the Skins scored nine.  The game finished after five due to Oklahoma's eight after five run rule.  Liberal banged out 15 hits compared to Woodward's three.    Woodward had five errors and Liberal made three.  The Redskins walked 12 batters.  Carlos Campos was 3-4 with three RBI's.  Hunter Huskey, Izzy Rotolo, Shay Kerr, and Brooks Kappelmann had two hits a piece.  Kerr drove home three runs.  Kerr and Kappelmann hit doubles.  Hunter Huskey went two innings allowing two earned runs and Oscar Rubio pitched 2 and 2/3 allowing one earned run.  Aidan Schwindt closed it out with 1/3 of an inning.
In game two, the Redskins led 5-1 after one.  LHS scored two in the second to lead 8-1.  The Skins led 12-1 in the middle of the third before Woodward scored four in the bottom of the third to make it 12-5.  Woodward scored two in the fourth to close the gap to 12-7.  The lead ballooned to 10 when the Redskins scored five in the fifth to lead 17-7.  The Boomers scored three in the fifth to make it 17-10.  Both teams scored two in the seventh.  Liberal out hit the Boomers 15-10 and both teams made four errors.  Carlos Campos was 4-4 with five RBI's.  Shay Kerr and Zayden Martinez added three hits a piece.  Hunter Huskey had two hits.  Brooks Kappelmann drove home three runs.  Shay Kerr pitched 4 innings and Erek Lira went three innings.
Liberal is 5-5 and hosts Garden City Tuesday at about 6pm  after the 4pm JV game.  The varsity game will air on 1270, 92.3, and the KSCB and The Legend App.