Liberal Baseball Limps to the Finish Line
Brock Kappelmann - May 10, 2019 7:02 am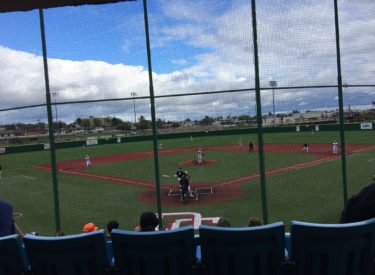 The Liberal High School baseball team finished the regular season having lost five of their last six.  The Redskin offense and bullpen struggled on a cloud 50 degree day in the regular season finale Thursday afternoon at Demon Field in Dodge City.  The Red Demons celebrated senior day with a 10-3 win over the Redskins.
Dodge City greeted starter Braxton Hyde with three in the first on two bean balls and two hits.  Dodge scored one in the second on two doubles.  Liberal dug into the Red Demon lead as Hyde settled in.  The Redskins plated two in the third on three hits including and RBI single by Javier Bojorquez who went 3-3.  Elijah McCarter's ground out scored the first run as Syris Dunlap singled and stole a base before scoring.  Shay Kerr's line drive sac fly to left scored Dunlap in the fifth to make it 4-3.  Hyde worked the fifth and allowed one more run before departing after five innings and 81 pitches.  The bottom fell out for the Redskins in the sixth as the Skins used three different pitchers in a five run Red Demon sixth.  That was more than enough insurance for the Demons.  The Demons out-hit the Redskins 10-6 and both teams had errors.
Liberal is 11-9 and 3-5 in the WAC.  Dodge City is 12-8 and 2-6 in the WAC.  It's Liberal's first loss at Dodge City since 2015.  The Redskins had one 7 of 8 in the series until the loss.  It's Liberal's first losing season in the WAC since 2014.  Liberal is the nine seed and plays Junction City Wednesday at 3:30 in Haysville on 1270 and kscbnews.net.  The winner plays after that at about 5.