Liberal Baseball Association Weekend Wrap Up
KSCB News - June 10, 2013 6:34 am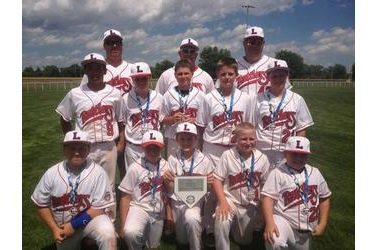 The Liberal Bulldogs went 3-2 and placed second at the Dodge City Junior Ranger Classic this weekend. The Salina Eagles beat the Bulldogs for the championship 7-6 Sunday. The Bulldogs also trashed the Woodward Travelers 16-6 Sunday as Law Greiner got the win.
Saturday, Liberal lost to Dodge City 9-4 but beat the Salina Eagles 5-1 and Brandyn Terrazas relieved Kaden Long for the win. Liberal pounded the Dodge City 16's Saturday 11-1 and Lorenza Avila pitched the Bulldogs to the win.
The Bulldogs play two at Woodward Wednesday.
The Cimarron River Rattler 11's got 2nd at Hutchinson while the 10's got 2nd at Pratt, and the 12's got third at Hays.
Results for 11's
Pool Play:
Beat Wichita Shockers 11-6
Beat Manhattan Rangers 9-2
Bracket Play:
Lost to Hutchinson Monarchs 11-7
Beat Wichita Reds 3-2
Lost to Hutchinson Monarchs 7-6
Play in DC this coming Weekend
Kansas USSSA 11U State in Kansas City June 27-30
USSSA 11U World Series in Dallas Texas July 3-8
14 yr old results
Beat Beaver last Thursday 13-3 and 21-1.
Beat Guymon Orange 16-3 and 15-0 Monday (tonight).
13-1 on the season.