Liberal Animal Shelter Receives Recognition
Joe Denoyer - October 25, 2023 10:07 am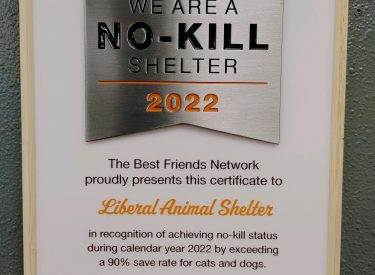 On Wednesday, October 18th, 2023, the Liberal Animal Shelter was recognized by Best Friends Animal Society for achieving a 90% save rate in 2022. This means the shelter saved more than 90% of the dogs and cats that entered the shelter last year.
Achieving this status is a direct result of the hard work the Animal Control staff does on a daily basis helping the community of Liberal. This couldn't have been possible without the continued support of the Liberal Animal Shelter by the citizens of Liberal.
*A 90 percent save rate is the nationally recognized benchmark to be considered "no-kill," factoring that approximately 10 percent of pets who enter shelters have medical or behavioral circumstances that warrant humane euthanasia rather than killing for lack of space.
About Best Friends Animal Society 
Best Friends Animal Society is a leading animal welfare organization working to end the killing of dogs and cats in America's shelters by 2025. Founded in 1984, Best Friends is a pioneer in the no-kill movement and has helped reduce the number of animals killed in shelters from an estimated 17 million per year to around 378,000. Best Friends runs lifesaving programs across the country, as well as the nation's largest no-kill animal sanctuary. Working collaboratively with a network of more than 4,200 animal welfare and shelter partners, and community members nationwide, Best Friends is working to Save Them All®. For more information, visit bestfriends.org.