Liberal and Elkhart Baseball Split on Wind Blown Day
Brock Kappelmann - May 3, 2022 6:44 am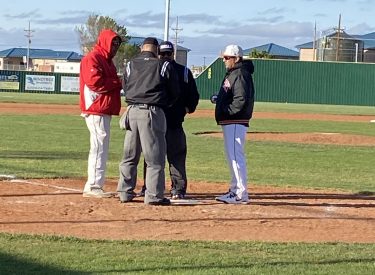 With temperatures falling from the 60's, to the 50's, to 45 with a wind chill of 36, Liberal and Elkhart tried to play baseball amidst 30-40 mile per hour winds from the north.  Elkhart won the first game 13-7 after building a 12-0 lead.  The Redskins took game two 17-3 Monday at the National Beef Sports Complex.
In game one, Elkhart scored three in the first, five in the second, two in the third, and two in the fourth.  The Redskins scored in the final four innings with one in the fourth, two in the fifth, three in the sixth, and one in the seventh.  Liberal out-hit Elkhart 10-9 but struggled playing defense in the wind with eight errors.  Elkhart had four errors.  Liberal allowed just one earned run.  Hunter Huskey was 3-5 and Shay Kerr was 2-3 in the loss. Gage Ralstin pitched three scoreless innings with five strikeouts and one walk.  Cesar Gomez was 4-5 with three RBI's and four runs.
In game two, Liberal scored 10 in the first on the way to the blowout win.  LHS added three in the second and four in the third.  The Redskins out-hit the Wildcats 8-2. Elkhart committed five errors while LHS had three in the brutal weather conditions.  Hunter Huskey hit an inside the park home run to begin the first.  Shay Kerr pitched four strong innings allowing one earned run with five strikeouts and two walks.
Liberal is 9-9 and hosts Dodge City for Senior Night Tuesday at about 6pm after the JV game on 1270, 92.3, and The KSCB and The Legend App.  Elkhart is 13-3.