Liberal Allows 32 1st Quarter Points in Loss to Buffaloes
Brock Kappelmann - February 22, 2023 6:46 am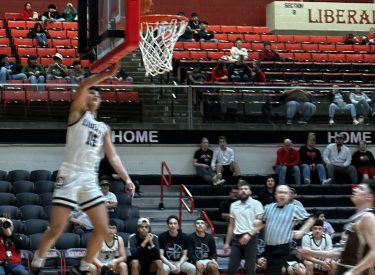 The Western Athletic Conference champion Garden City Buffaloes gashed the Liberal Redskins for 32 first quarter points on the way to a 74-50 win in the Big House Tuesday night.  The Redskins wrapped up Pancake Day with a 16th straight loss.
The Buffs made their first three 3 pointers and build a 14-2 lead before leading 32-11 after one.  Garden City led 48-23 at halftime.  It was 66-39 GCHS after three.
James Fieser scored a career high 23 points.  Zayden Martinez had 13 points and 10 rebounds.
Garden City finishes their best regular season ever at 19-1 and 8-0 in the WAC.  Liberal is 2-17 overall and 0-7 in the WAC.  The Redskins host Dodge City Thursday night at about 7:45 in the Big House.  Liberal must win to have a chance to make 6A sub state.  If Liberal loses, it will be their last game.  The game will air on 1270 and 92.3.