LHS will Search for New Basketball Coach
Brock Kappelmann - March 2, 2023 1:33 pm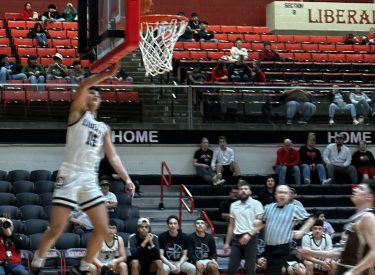 Liberal High School's boys basketball program will have a new head coach next season.  LHS athletics is preparing to go through the process of finding a head coach for next season.   Keenan Thompson has been the head coach the past two years and remains a teacher at LHS.  He will not return as head coach in 2023-24.  The next head coach will be the 4th head coach in the past 5 years.
The Redskins finished off a 2-18 season last week.  For the first time, the Skins failed to reach sub state.  The two wins meant this year's team joined  teams in 2002 (2-19), 1964 (2-17), and 1956 (2-16) for least wins in  a season at the school.   This year, the Redskins lost their last 17 games and last won a game on December 10.  They finished 0-8 in the WAC.  Liberal finished 6-35 in two seasons under Thompson after going 4-17 in 2021-22.
However, the struggles in boys basketball have aren't a new phenomenon.  Since Scott Hinkle's Redskins were 18-3 in 2017, the Redskins have gone 8-13, 10-11, 8-13, 7-14, 4-17, and 2-18 for six straight losing seasons.  The Skins are 7-41 in the WAC since the WAC champs of 2017.  Since the turn of the century, LHS has 15 losing seasons compared to nine winning seasons.  Liberal won a state championship in 1986 and were the state runner up in 1991.  The Redskins have been to the state semis eight times (1926, 1974, 1976, 1985, 1986, 1987, 1991,  and 1993).  The Redskins have an eight game losing streak at state.
Liberal graduates Izzy Rotolo (7p 3r), Chris Robledo (6p), Kamryn Jennings (2p 3r), Christian Loza (2p 3r), and A.B. Amador (1p).  They return current juniors Zayden Martinez (14p 11r), J. Brooks Kappelmann (8p 6r), Carson Chamberlain (4p), Adan Mata (2p 3a) with classmates Erick Arriaga, Gianni Calvillo, and Geo Garcia.  Current freshman James Fieser burst onto the scene (9p 3r).
The returning group will have to improve on offense and defense.  They scored 51 ppg and allowed 68 ppg.  LHS shot 35% from the field and allowed 45% shooting.  Liberal committed  20 turnovers per game.