LHS Track Takes Partial Team to Great Bend
Brock Kappelmann - April 12, 2017 6:44 am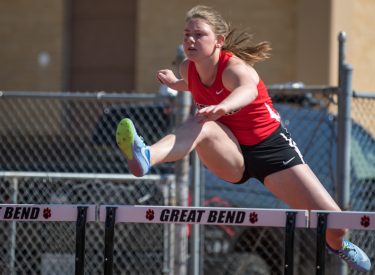 Liberal took a partial team to Great Bend Tuesday.  Here is coach Tyson McGuire's explanation of who competed in the meet followed by Liberal's results.
Here are the Liberal team results from the Great Bend Track Meet. We had a
handful of athletes sitting out of the meet or only competing in one or two
events so we can rest and have some ready to compete at the WSU Pre State
Meet this Thursday and Friday. We were able to pull up a lot of the Junior
Varsity athletes and have them compete in a varsity meet. We were very
pleased to see some of the younger athletes step up and compete well.
We were also able to put some people in some different events to not only
see who can help us out in other areas but to give some people some
different speeds in training.
We had a handful of Personal Records today and look forward to continuing
the improvement throughout the week. We will be taking around 14 athletes
to WSU Thursday and Friday, and all of the JV to Elkhart on Thursday.
Girls
Manhattan 146
Hutchinson 117
Dodge City 102
Hays 57
Liberal 53
Great Bend 34
Hoisington 30
400- Kelsey Ramsey 2nd 1:04
1600- Whitney Hay 2nd 6:00
800- Cam Slatten 2nd 2:27 4th Katie Horyna 4th 2:30
4×800- Whitney Hay, Yanelly Jurado, Grace Crossman, and J. Suarez 3rd 11:25
4×100- Emma Shellenberger, Kambri Garrett, Machia Mullens, and Jada Mickens 4th 53.34
Boys
Hutchinson 160
Dodge City 138
Manhattan 80
Liberal 57
Hays 53
Hoisington 52
Newton 12
Great Bend 2
Triple Jump- Markalyn Eatmon 40'6.5″ 1st
Long Jump Markalyn Eatmon 22'5″ 1st
1600- Antonio Borunda 2nd 4:40
4×100- 4th 46.8 John Aung, Jessie Espinoza, Tyrique Chandler, and Jessie Alvarado