LHS Principal Thanks Community for Memorable Homecoming
KSCB News - February 15, 2016 9:02 am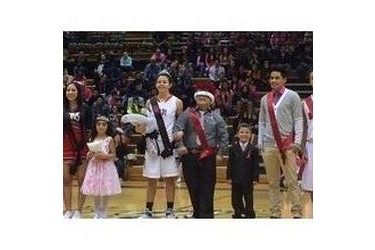 It was a GREAT day to be a Redskin
Last Friday night, Timothy Fitzgerald demonstrated the compassion and integrity that is rare to most high school students these days by giving up his homecoming crown to classmate Daniel Rivera to allow him the opportunity to experience the joy and excitement of being recognized in front of a large crowd of classmates and community members. In doing so, he set an example for every person in the building – students and adults, alike. When the kindergarten crown bearer was asked after the night what he thought of being part of the homecoming court, his response was, "Someone should do something nice for Tim since he did something nice for someone else." To those who know and work with Timothy on a daily basis, this was no surprise, as this is the kind of humility, kindness, and selflessness that he exhibits all of the time; he is the epitome of a class act. And for those who know Daniel, know he is very deserving of such positive recognition.
While this truly touching gesture was enough to be the highlight of the night, season, and even school year, last Friday night only got better when taking a look at all that had gone on behind the scenes.
Carolina Limon, a senior basketball and soccer player, was crowned homecoming queen – in her basketball uniform, as minutes before the crowning, she helped lead her team to a 42-34 victory over the Hays Lady Indians. She, too, showed humility by walking confidently onto the homecoming court in basketball shoes and sweat rather than an evening gown and high heels. In the same moment, standing in front of the crowd, the other homecoming candidates – Victoria Rios, Katherine Covert, Stephanie Garcia, Karen Banuelos, Sylman Pando, Alfredo Banuelos, and Dennis Nava had such poise and grace as the ceremony took place and the crowns were awarded.

The Rowdy Crowd student section was in full force for the "Pink Out" night. They had an energy that could not be topped by any high school in the state, and it was contagious to all who were in attendance.

Cheerleaders and dance team members provided excellent performances throughout the game and at the halftimes. They were polished and professional as they led the crowd in cheers and chants.

'That' Liberal Band was nothing short of spectacular in their playing of the fight song and countless other songs throughout the night. Fans could not help but clap and dance to the stellar sound that they produced.

Students from the choir proudly bellowed the national anthem to start the girls and boys basketball games, something they have spent many class periods practicing.

The athletic trainer, student athletic trainers, managers, and videographers put forth their full effort behind the scenes to ensure that they players were at their best both on Friday night and in games to come.

LHS coaches worked around the clock for months, preparing their athletes to be leaders on the court and players who are able to show character and grit in a tight game. And it paid off. Both were victorious after the Redskins gutted out a 57-51 win in triple overtime.

Student Council sponsors spent hours pouring over every detail of the ceremony and night to make sure that it was perfect for the LHS students and fans. And they succeeded.

Drama Club ran the concession stand. Not only were they serving the huge crowd of fans who came out to support both teams, but they were working together to raise money to make their productions top-notch.

One teacher paid the admission price for her entire Teen Leadership class to attend. By doing so, one of her students experienced his first ever high school event and could not have been more elated.

Another teacher and paraprofessional brought a new, shy student to the game so that she could know what it was like to be a part of the LHS student body.

Many other teachers, coaches, paraprofessionals, and staff members were in attendance to show their support for the students involved and show they are truly committed and invested in the students and school they serve.

Parent, grandparents, aunts, uncles, cousins, LHS alumni, neighbors, and community members came in droves with hearts racing and feet stomping to add to the electrifying atmosphere and witness sportsmanship at its finest. Some worked so hard to cheer on the Redskins that their voices were hoarse and their bodies physically sore the next day.

Middle school students and future Redskins cheered their hearts out, jumping up and down each time the Lady Redskins and Redskins scored. It was clear how much they look up their older peers.

The announcer provided the play-by-play in exciting fashion to those at home listening on the radio, while the newspaper publisher and student newspaper and yearbook members took photo after photo to commemorate the event. And Liberal High's very own and very talented photographer, Kaden Classen, captured the inspiring crowning moment along with many other memorable moments over the course of the night.
It was definitely a night to remember for all who walked through the doors of Liberal High School. It was a night that was exactly what high school activities are all about. The motto for Liberal High School has been to get Better Every Day. On the night of February 12, 2016, it was at its best.