LHS Hosts Signing Day Ceremony
KSCB News - February 4, 2016 7:24 am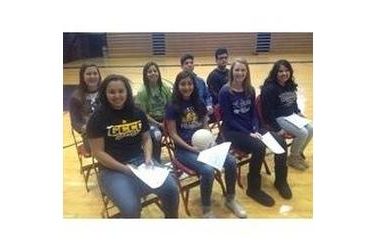 Eight students at Liberal High School signed to their next steps in life. LHS hosted a signing ceremony in the Big House Wednesday afternoon as part of national signing day.
Alan Fraire signed to play football at Hutchinson for Liberal graduate Rion Rhoades. Fraire had 347 tackles in three seasons. He was first team all WAC for his junior and senior seasons. He was a team captain in each of the past two seasons.
Teammate Aldo Villa signs at Hutch. He is a lineman who lettered three years at LHS.
Stephanie Garcia will compete in two sports at Dodge City. Garcia will play volleyball and throw the javelin in track. She is the reigning WAC champion in the javelin and a two time state qualifier. In volleyball, she was named the best offensive player in 2015 and best defensive player in 2014. She is a three time WAC Academic Award Recipient. Her sister and LHS graduate Katie Garcia has played at DC3 the past two years.
Carolina Limon signs for soccer at Butler. She was first team all WAC and was team MVP as a junior. She was named 2015 Redskin Female Junior Athlete of the Year at the Athletic Awards Assembly last spring.
Ariana Diaz signs in the soccer program at Garden City. She will have lettered four years in soccer at LHS. She was one of the team captains last spring. She will join Liberal's Yanira Ruiz and Kelly Ramirez at Garden.
Abbey Hebbert signed for the rowing program at Kansas State. Obviously LHS does not have rowing but her work in swimming and volleyball help her. She was a state qualifier in the backstroke and is the school record holder. She is a wo year MVP in LHS swimming. She will have lettered four years in swimming and lettered four years in volleyball.
Megan Larkin joins Hebbert in the rowing program at K-State. Megan is currently a captain in basketball and was a state qualifier last spring in track. She lettered four years in track and twice in basketball.
Cynthia Torres will be an athletic trainer at Barton. She is a four year letter winner as a manager and two year letter winner as a trainer.