LHS Grapplers Place 3rd at Scott City
Brock Kappelmann - January 15, 2023 1:05 pm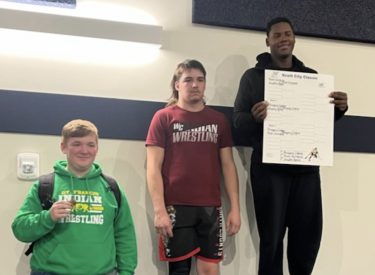 Tom McClure
The varsity boys and part of the Lady red crew traveled to Scott City to compete in the 38th annual Scott City classic. Of the 18 wrestlers who went 3 would take home 1st, 2 2nd, 3 3rd, and 3 4th place medalists. The boys would take third in the tournament. On the boys' side, Trystian Juarez and Trey Dinkins would bring home gold, and Tommy McClure would lose in finals to number 1 ranked 3A Gardner from Wichita County. Julian Orrantia and Brian Casas would place 3rd, while Aidan Schwindt and Jacob Cutshall fourth. Cutshall would run into KSHSAA 5-match rule and not be able to wrestle for third against an opponent he pinned in the first round.
On the girls' side, the Lady red how probably the biggest surprise of the tournament. Kimberley Ramirez. Kimberley would wrestle and pin all 4 of her opposition with several being a few come-from-behind wins. "She was admittedly nervous to us, but she just would find a way to not only frustrate her opponents but get in a good position to pin her foes". Rosa Pablo Valasquez would make her return from a preseason condition that kept her out until this weekend to finish 3rd. Jimena Valles would take 4th.
The teams wrestle in Garden City Tuesday to take on a very tough ranked Buffalo team for the 2nd WAC dual of the season.