LHS Girls Win the WAC
Brock Kappelmann - October 14, 2016 6:43 am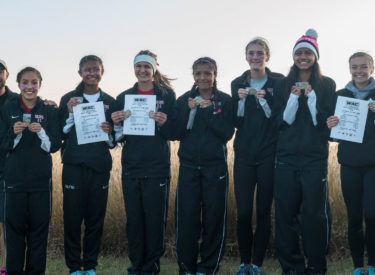 The Liberal High School girls cross country team came into Thursday's
Western Athletic Conference championship with two dates in mind. 2002, the last
time and only time the girls cross country team has won a WAC championship,
and 2009, the last time any girls sport at LHS has won the WAC title. The girls
wanted both of these droughts to come to an end Thursday at Mariah Hills Golf
Course in Dodge City. It was a tense wait but when the scores were announced it
was exactly that as the girls claimed the team title scoring 53 points. Dodge City
who was trying to claim their third straight title was second with 60 points, and
Garden City was third with 61 points. Hays was fourth with 80 and Great Bend
scored 83 points. Camryn Slatten led the way for the Redskins after sitting out of
the last varsity meet due to injury. Slatten ran the 4K course in 15:32 to finish
second place and earn her fourth top ten WAC finish to go with 2 titles and a
tenth place finish as a freshman. Katie Horyna in her first WAC race had an
impressive third place finish to earn All-WAC honors. Horyna's time of 15:44 put
her in the LHS record books as the fourth fastest girl overall and the fastest
freshman at the 4K distance, Slatten is third on the list. Saw Ahmara earned All-
WAC Honorable mention with her tenth place finish in 16:40. Yanelly Jurado
placed 15th in 16:54. Alondra Alvarado was the fifth runner for the Redskins who
placed 23rd in 17:09. Kelsey Ramsey and Erika Valverde finished in 27th and 33
rd with their times of 17:37 and 18:35.
The sophomore seven on the boys' team were led by Joel Obando in 16th
place with a time of 17:50 for the 5K distance. Xavier Perez's time of 17:54 placed
17th. Antonio Borunda completed the course in 18:02 for 20th place. Javier Carrillo
was the 25th runner to cross the line in 18:24. Fausto Parral placed 30th in 18:59.
Josh Diazdeleon and Alex Molina were 33rd and 35th with times of 19:12 and 20:00.
Dodge City won the meet for the second consecutive year with 33 points followed
by Garden City 44, Great Bend 70, Hays 102, and Liberal 108.
The Liberal cross country teams will travel to Lake Afton near Goddard, KS
on the 22nd for the Regional Championship for a chance to qualify to the state
meet. Other teams in the regional include Arkansas City, Goddard, Goddard-
Eisenhower, Great Bend, Maize, Valley Center, and Wichita-Bishop Carroll. The
top three teams will advance to state.
Tyson McGuire