LHS Girls Win Hugoton Meet
Brock Kappelmann - September 17, 2023 9:59 am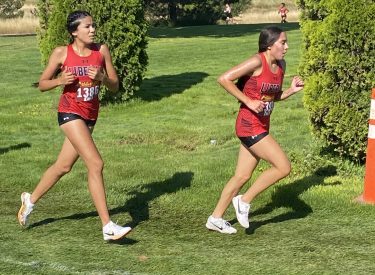 Marcus Calleja
Hugoton Invitational
For LHS cross country this was closest home meet that we were going to have this year. This meet was very competitive on the girls and boys side. The meet was ran at the Hugoton Forewinds Golf Course and it was a very face course that showed very fast times.
On the girls side Daniela Cerda led the way for the girls after a strong performance last week at Olathe Twighlight. She would finish 2nd with a time of 20:34 after being pushed by a runner from Cimmaron. Not far behind Cerda would be her teammates Janaya Devorce (7th) at 21:14 and Jenny Casas (12th)  at 21:42 both who ran life time PR's leading the girls to a 1st place finish!
The boys side had 2 very competitive teams in power house Guymon and Holcomb whose runner would win the meet. Just like how it has been all year the 3 seniors keep pushing one another and times continue to be impressive. Cesar Pavia (3rd) at 16:17 and Mj Foster (5th) at 16:21 and Beto Torres (10th) at 17:07. Alex Koerner (15th) the Jr would also run a PR at 17:29 to round up our boys medalist. Boys would finish right behind Holcomb to take 2nd place as a team.
JV Boys/Girls Medals winners were Sofia Lucena, Selena Ontiveros, Jhovana Cruz, Enrique Morales, and Kevin Sosa.
| | | | | | |
| --- | --- | --- | --- | --- | --- |
| Daniela | 2nd | 20:35 | Cesar | 3rd | 16:17 |
| Janaya | 7th | 21:14 | Mj | 5th | 16:21 |
| Jenny | 12th | 21:42 | Beto | 10th | 17:07 |
| Angela | 25th | 23:21 | Alex | 15th | 17:29 |
| Isabela | 28th | 23:36 | Alejandro | 26th | 18:17 |
| Rubi | 29th | 23:40 | Bartolo | 35th | 18:38 |
| Ariana | 33rd | 24:13 | Samuel | 48th | 18:57 |
| | | | | | |
| | | |
| --- | --- | --- |
| Cesar | 3rd | 16:17 |
| Mj | 5th | 16:21 |
| Beto | 10th | 17:07 |
| Alex | 15th | 17:29 |
| Alejandro | 26th | 18:17 |
| Bartolo | 35th | 18:38 |
| Samuel | 48th | 18:57 |
| | | |