LHS Girls Ninth at State
KSCB News - November 2, 2015 6:46 am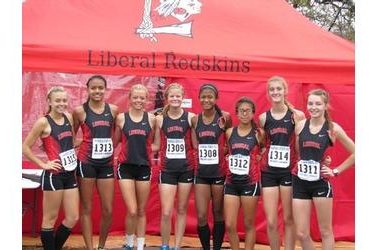 The Redskin cross country runners competed at the State
Championships in Lawrence, Kansas Saturday morning at Rim Rock Farms.
The girls team qualified their entire team, while the boys team qualified
three individuals. Rim Rock was host of 3A, 5A and 6A teams, while 1A, 2A
and 4A competed in Wamego, Kansas.
The 5A girls were the first race of the day. The Redskins roster
consisted of senior Sarah Arriaga, juniors Camryn Slatten, Saw Ahmara,
Yanelly Jurado, Chloe Alling, Karen Hernandez, Kayla Gokey, and sophomores
Kelsey Ramsey and Reyn Slatten. The Redskins could run any seven of the
runners listed on their state roster. Camryn Slatten was looking for her
second consecutive All-State season in her third appearance at the state
meet. Slatten
'
s freshman season ended with a 50
th
place at state, while last
year she finished 18
th
. Slatten continued to improve as her time of 19:58
was good enough to be the tenth fastest runner in the state and earn her a
second straight All-State selection. Saw Ahmara was the second runner for
the Redskins. Ahmara completed the course in 21:19 to place 51
st
. Yanelly
Jurado and Kelsey Ramsey packed together through the course to finish 59
th
and 62
nd
with times of 21:42 and 21:49. The fifth and final scorer for the
Redskins was Chloe Alling. Alling was the 79
th
runner to cross the line doing
so with a time of 22:25. Reyn Slatten was the next runner for the Skins.
Reyn ran her fastest time of the year in 22:39 to be the 81
st
runner to finish.
Karen Hernandez placed 98
th
with a time of 24:30. The Redskins ended up
with a score of 196 points to place 9
th
in the state. St. Thomas Aquinas won
for their fourth year in a row with 30 points as their top three runners placed
first, second and third. Overland Park Blue Valley South was second with 90
points and Lansing was third with 118 points. WAC competitors Great Bend
ended the day in 12
th
with 320 points.
The boys did not compete as a team but took three individuals who
qualified. Junior Edgar Moreno led the way for the trio. Moreno covered the
distance in 17:21 to finish in 34
th
place. Seniors Emilio Tovilla and Greg
McClurg competed in their last cross country races as members of the Liberal
Redskins. Tovilla who missed competing at State last year due to injury
throughout the season finished in 45
th
place with a time of 17:31. McClurg
started off strong crossing the 2 mile mark in 11:00 minutes. Unfortunately,
McClurg twisted his ankle with about 800 meters left and was unable to finish
the race. St. Thomas Aquinas won the boys race as well with a score of 22
points. Aquinas
'
s top four runners placed 1
st
, 2
nd
, 3
rd
and 4
th
.